You've earned a little pampering! Detoxify and revive your body!
You will feel refreshed and relaxed after treating yourself to one of our spa services. Choose from facial and body treatments that are specially designed to leave your skin feeling softer and your body feeling invigorated. (Chemical Peels and Promotional Seasonal Facial Specials also available. Call salon to inquire)
Indulgent Facials
European Spa – 55 minutes – $70 25 minutes – $50
A classic facial for all skin types that will leave you feeling clean and refreshed. Complete with a neck and shoulder massage for total serenity.
Celestial Signature Facial – 55 mins $95
Customize for any skin type. Our signature facial uses fruit enzymes with a double exfoliation to help eliminate dead skin cell buildup. Brightens, refreshes and gently tones the skin.
Skin Firming Facial – 55 minutes – $90
Soothe & deeply hydrate your skin with this ultra-nourishing, anti-aging treatment. Lactic acid exfoliation and a powerful blend of active ingredients deliver optimum skin smoothing and toning.
Soothing Skin Facial – 55 minutes – $85
Relieve skin sensitivity with this exclusive treatment. Powerful anti-inflammatories, hydrators & antioxidants revitalize and strengthens skins integrity. Provides serious calming effects to even the most sensitive skin.
Dermaplaning Facial –  60 Mins:  $150  |  30 Mins: – $80
Dermaplaning is a minimally invasive resurfacing procedure that uses manual exfoliation to reveal fresher, smoother skin without any chemical exfoliants. Includes double cleansing, extractions, mask, massage, nourishing serums and creams filled with active ingredients.
Purifying & Cleansing – 55 minutes – $85
This highly effective treatment is designed for oily and/or acneic skin conditions. Gentle exfoliation and thorough extractions will leave your skin deeply cleansed and feeling heat.
Teen Facial – 25 minutes – $40 55 minutes – $60 55 minutes acne $75
Designed specifically for the skin care needs of teenagers. Includes gentle cleansing, light steaming, and extractions if necessary. Includes an aromatherapy shoulder rub to ease some teen tension along with great home care tips and skin care samples to try on their own.
Microdermabrasion – 55 mins $125, package of 5 treatments $500, w/lactic peel $150
A specialized resurfacing treatment that gently and effectively removes the lack luster layer of cells revealing a more even and refined texture.
Back and Shoulder – 25 mins $50 55 minutes $70
Improves clogged pores and breakouts with the use of an invigorating scrub, hot towels and a soothing mask. This treatment also includes the removal of existing impurities and a relaxing massage.
Oxygen Rejuvenation – 55 mins – $99
Your skin has lost nearly half the oxygen content by the age of 20. This uniquely designed treatment with vitamins, minerals, enzymes, amino acids, and oxygen therapy will moisturize and revitalize your skin.
Chemical Peels
Whether you are looking to clear acne, brighten your complexion or smooth fine lines, we offer multiple chemical peels.  Our effective chemicals are infused with botanicals and petites to deliver true transformation.  All treatments are incorporated into a one hour European Facial.
Lactic Peel – $95
30% Glycolic Peel – $100
Salicilic Peel – $100
60% Glycolic Peel – $110
Jessner Peel – $125
TCA Peel – $135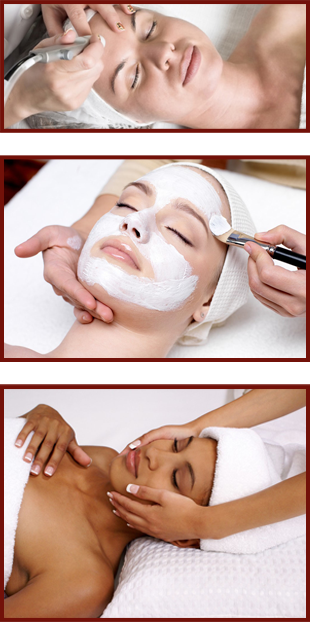 Gift cards available!
All recommended products are
guaranteed!