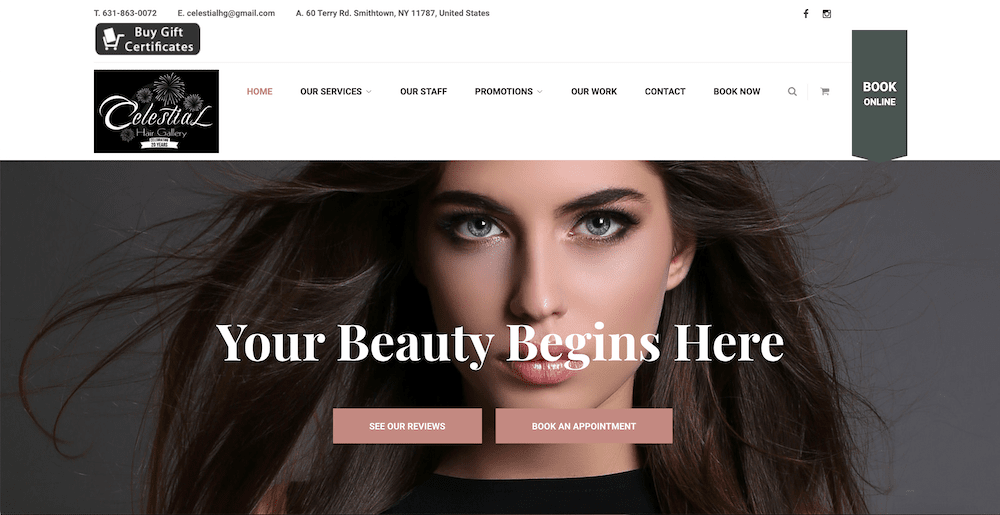 Celestial Hair Gallery Launches A New Website
Smithtown Hair Salon, Celestial Hair Gallery has been servicing the local community for over 20 years. Our team of innovative, courteous, dedicated salon & spa professionals routinely bringing the best to our clients. We are an industry leader when it comes to beauty, new style trends and higher education. Celestial Hair Gallery is a proud Goldwell Titanium Level Salon and one of their top national salons. Our clients come to our salon to relax & unwind while we pamper them with our first class services. Our exclusive services are offered at industry competitive prices and we are always offering unmatched promotional deals. Keeping up with ever-growing technology we have decided to launch our new website.
For this scope we hired Long Island web design agency, Benjamin Marc.
"Being from Smithtown I pass Celestial Hair Gallery on a weekly basis. When I received a phone call to build their website I was very happy to take it on. I grew up in Smithtown so to build a website for my local community was an absolute pleasure. When I met with Joanne to discuss the website she was very precise on her desires for the new website. Joanne is a very intelligent, professional businesswoman that broke down how she wanted the best user experience for her clients.
The website offers visitors the ability to book appointments, browse through staff, purchase gift certificates and much more. Keeping the website interactive and social customers can see Celestial Hair Gallery's magnificent work by click directly from the website to the company instagram. Celestial Hair Gallery also updates their special deals page regularly giving customers special incentives to try new services. We were very happy to be retained as their hosting and SEO company to help with increasing traffic to the new website". Says Anthony Savino of Benjamin Marc.
Since the new website launch several analytical softwares show a surge in traffic as well as time spent on the website. Please browse through and let us know your thoughts.